1980
We gained momentum in the sector with logs and veneers
2021
We continue our brand journey
1970
Our commercial career started with furniture.
2004
Pressing and production tool investments started
About us
Mastery Means Understanding…
When nature presented itself to mankind in its purest form, we needed the hands of a master woodcutter. If we had a master, the wood offered by nature would be everything to us. Woodlent has master hands that respond to the miracles offered by nature.
Life can change with the meticulous work of this master, who knows every shade of wood and the language of every tree. Whatever raw material you get your hands on, when you make an effort to understand it, it will reveal all its secrets to you and will not spare your help to reach its best form. What we wanted to understand in our mastery process was nature, the tree itself. Exactly what we got for our effort was the source itself.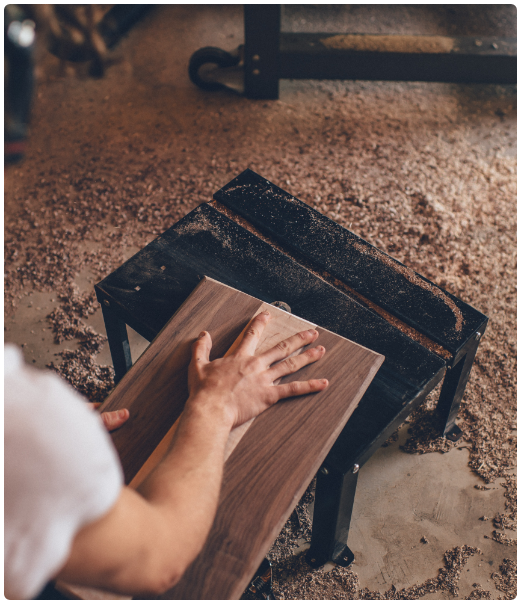 Our Mission
With inspiration from nature...
Growing step by step with our 45 years of experience, we have been careful to touch people who know the value of production. It has become our priority to produce before consumption, not to spoil what is important for quality, and to take guaranteed steps without sacrificing thoroughness. We listened to the tree, brought it to its perfect form, and today we are at the heart of the concepts that make an impact in decoration along with the production of quality furniture. Woodland has always been happy to understand the language of the tree and present it to all companies and individuals in their communication, and will continue to hear about it in the future.
Our Vision
Carrying Value into the Future
We are of the opinion that there is a production consciousness and quality that needs to be carried into the future. Our primary goal is to be open-handed, as we learned from nature, even though the fact that we have the largest export volume in the Turkish market says that we fulfill our duty as an intermediary here. Quality should be carried all over the world. The value of mastery and fine craftsmanship should be conveyed from language to language with Woodlent.
We know that we will reach the whole world with 45 years of labor and the value you give on this path where we never hesitate to improve ourselves and walk with a new achievement every day.